February 13, 2020
Everyday
Skiing: advice for a safe time on the slopes
What could be more exhilarating than racing down the slopes through mountains and glaciers! However, skiing is a technical and demanding sport which requires you to be well-prepared, well-equipped, and in good physical shape. From sunburn to spraining your knee, an accident may be just around the corner if you don't take care. To ensure that a careless mistake doesn't ruin your winter holiday, here are some safety rules to follow. The slopes had better watch out!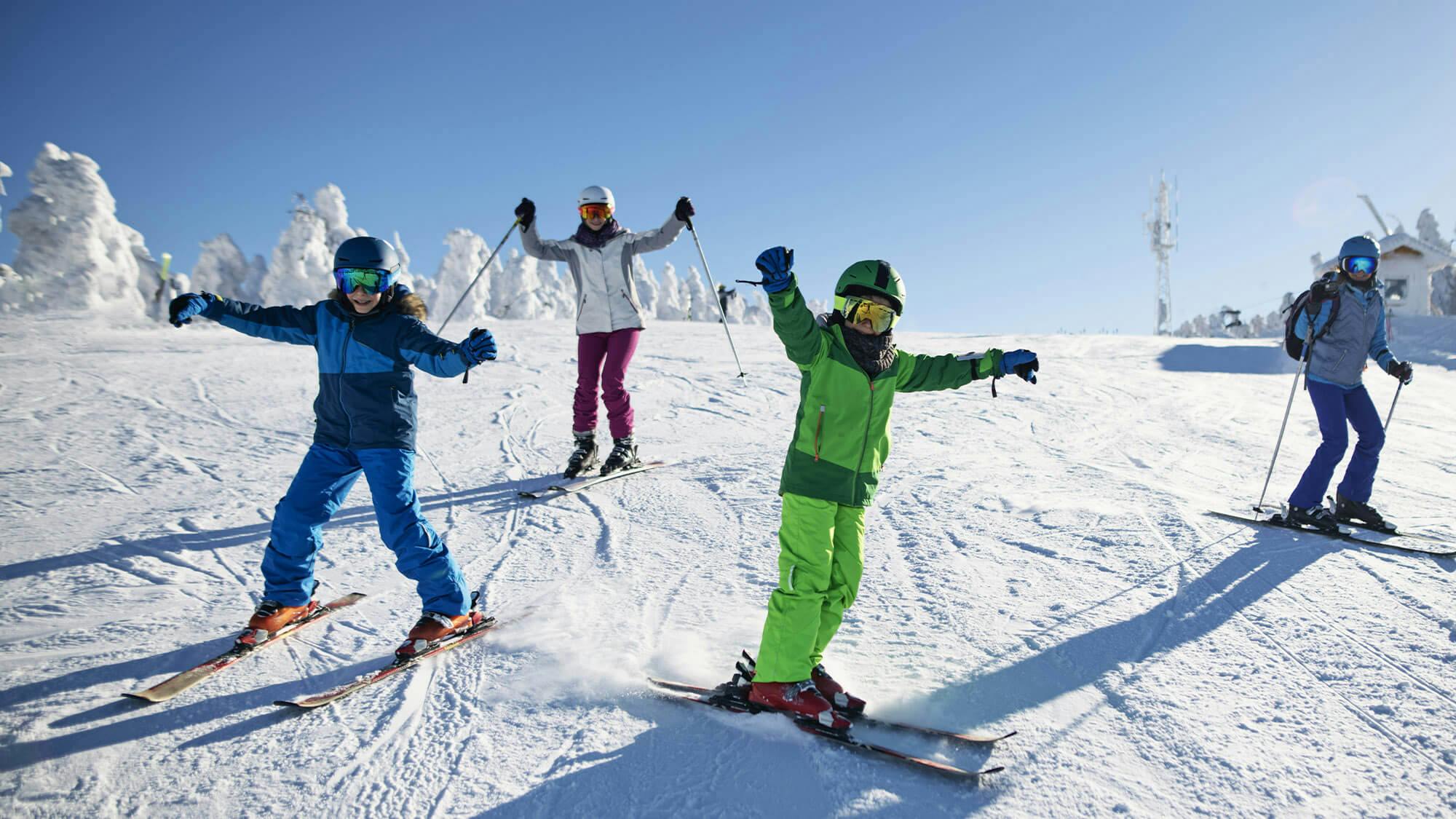 Before your holiday: make sure you're in good physical shape
If you're feeling a little rusty, it's best to avoid heading straight for the red slopes! It's a sure-fire route to fractures, sprains and tears to cruciate ligaments.
For several weeks before you go, spend half an hour each day preparing your body. Above all, skiing requires strong leg muscles, balance and flexibility. For this, there's nothing better than cycling, walking, swimming or other physical workouts.
Think about what you eat and stock up on antioxidants by increasing your daily intake of fruit and vegetables.
For those absent-minded individuals out there: don't forget your helmet!
Being safe comes down to having the right equipment. A wide variety of protective equipment exists for skiers, from back protectors to wrist guards and ski masks.
While it is only mandatory for children, everyone should wear a helmet in order to avoid the many possible head injuries! In skiing, one in 10 accidents is caused by a collision.
Half of all accidents are due to incorrectly adjusted fastenings
More than half of all skiing accidents are due to incorrectly adjusted fastenings, in particular, knee sprains, a common injury in alpine skiing. Adjustments must be made relative to your age, weight and size, as well as your level of experience and your skiing style. Have your fastenings adjusted by a professional every season!
Just before you get going...
Don't overestimate what you're able to do! From green to black, make sure you choose an appropriate slope for your level.
Check the weather at your resort: avoid heavy snowfall, which reduces your visibility, and obtain information about the risks of avalanches.
Eat complex carbohydrates to keep you going throughout the day. Drink lots of water and don't skimp on sun protection on your face and lips!
Warm up to reduce the risk of injuries: stretch, jog on the spot and warm up your joints.
On the slopes: the safety rules to be followed
When you're on the slopes, remember you're not alone! Pay attention to those around you, particularly beginners and children.
Always give the priority to the skier in front. Don't go too close to them, steer carefully and allow a large amount of space when overtaking.
Adapt your speed and behaviour to your level, the visibility and the number of skiers on the slope.
Don't stop on the slope unless it is absolutely necessary, especially in narrow places and when there is limited visibility. If you fall, clear the slope as soon as you can by making your way to the side.
Ensure you don't block the way of another skier, where slopes cross or when turning or joining the slope.
Go up or down the slope on foot, and always at the side
Respect signs warning of danger, crossings, crevasses and avalanches. Notice where markers are located to indicate your position in case of an accident.
Go off-piste at your peril!
Bold doesn't mean careless! Off-piste is only for experienced skiers. If you really want to go off the marked slopes, warn someone when you go and where you're going, never go alone, always check the weather first, and take an avalanche transceiver used to help find avalanche victims. Also take a shovel, a probe, and some provisions.
Note: Does your insurance policy cover skiing? A fall or collision when skiing could be expensive in terms of rescue costs and third party liability!